Belloc's Russian Commentary Exactly 100 Years Ago. Think about the Half Century Antagonism Between the Trotskyites and Russia and then Think About the Same Antagonism between Russia and the Neo-Conservatives of Left (CNN and MSNBC) and Right (Fox News, except for Tucker Carlson.)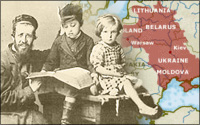 Hilaire Belloc, The Jews (1922). 100 years ago. Here is what he says in Chapter 9. Any relevance for today?
The external political power of what was once the Russian Empire has disappeared. The Jews have killed it. But the great mass of Russian humanity remains strongly affected by this curious change. Where popular instinct works untrammelled the old and violent passionate antagonism between the Russian and the Jew survives. You see it in the hotch potch of the Ukraine, the inhabitants of which, in spite of all theories, are of Russian race and tradition, and the central town of which is the sacred region of Russia as a member of Christendom. There, for all the Jewish Committees with large towns under their complete control, there have been repeated revolts. But in the greater part of European Russia at least, and in much of what was once the Asiatic Empire, the Jews hold what is left of the Executive government.