"There She Goes Again!" In attacking the report from Guinness Book of World Record Expert Lois Gibson, Christine Niles Takes Pictures From an Article that AFFIRMS THE VERY ANATOMICAL FACT THAT NILES IS DENYNG. Read the Link and Be Ready for Distortions and Fraudulent Presentation by Church Militant. They are clearly getting desperate.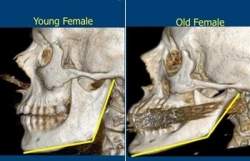 HERE IS THE VIDEO ATTACK CLIP BY CHRISTINE NILES
HERE IS THE RELEVANT TEXT IN THE ARTICLE CONCERNING THE JAW. IT HAS BEEN TRANSLATED INTO ENGLISH HERE: Jaw
The researchers used a computer program to measure the length, width and angle of the movable bone at the base of the skull, the mandible, and compared the results for each group.
Previous research had relied on X-ray images and suggested that the bone in the jaw increases with age. The use of computed tomography allowed a three-dimensional reconstruction of the face, improving the accuracy of measurements.
The angle of the jaw increases markedly with age, which results in a loss of definition in the lower part of the face. Jaw length significantly
decreases
when comparing young and middle-aged groups.
Between the middle-aged group and the elderly group, what stands out is the
decrease
in chin height.
Another point, very important from our perspective, that these two skull renderings are not of the same person. They are different women. Not an insignificant point!