The Man who Co-opted Tolkien, Chesterton, and Belloc into the Novus Ordo Cosmos, now would have us believe that Josef Ratzinger is a Great Defender of the Faith. Another Deceiver of the Innocent Pseudo-Trads Reveals His True Modernist Stripes.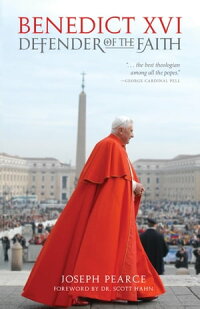 "I feel in Benedict's presence what G. K. Chesterton felt in the presence of the saintly Dominican, Vincent McNabb. Chesterton wrote that "Father McNabb is walking on a crystal floor over my head". I feel at least as strongly that Pope Benedict is walking on a crystal floor over my head, not only in terms of his sanctity but in terms of his wisdom and his scholarship. How can one hope to encapsulate someone who is so much larger and higher than oneself?"
This is just one paragraph from Joseph Pearce's latest text in which he purposes the arch modernist, Josef Ratzinger to be a great "Defender of the Faith." My question, which one?